International Journal of Computational Vision and Biomechanics
ISSN: 0973-6778


Founder Editors
João Manuel R. S. Tavares
Faculty of Engineering of University of Porto,
Portugal


R. M. Natal Jorge
Faculty of Engineering of University of Porto,
Portugal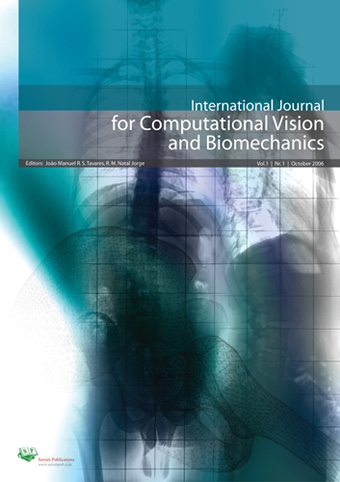 Aim and Scope
The research related with analysis of biomechanical structures has been a source of hard work in several distinct areas of science as, for example, mathematics, mechanical, physics, informatics, medicine and sport.

The experimental and computational analysis applied to living structures are of the most promising areas of research. However, for its successful, several research topics should be considered, such as image processing and analysis, geometric and numerical modelling, biomechanics, experimental analysis, mechanobiology and visualization, and their application on real cases must be developed and more investigation is needed.

The main goal of the International Journal for Computational Vision and Biomechanics (IJCV&B) consists in the provision of a comprehensive forum for discussion on the current state-of-the-art in these fields and it will cover (but is not limited to):
• Image Processing and Analysis
• Image Understanding
• Multi-modal Image Systems
• Vision Systems
• Medical Imaging
• Medical Image Analysis
• Computational Bioimaging and Visualization
• Biometrics and Biomedical Pattern Analysis
• Experimental Biomechanics
• Mechanobiology
• Numerical Simulation
• Material Models
• Numerical Methods for Living Tissues
• Nano Biomechanics
• Clinical Biomechanics
• Gait & Posture Mechanics
• Musculoskeletal Biomechanics
• Neuromuscular Biomechanics
• Sport Mechanics
• Applications of Computational Vision and Biomechanics
• Virtual Reality in Biomechanics
• Development of Biomechanics Devices
• Grid and High Performance Computing on Computational Vision and Biomechanics
• Software Development on Computational Vision and Biomechanics
Emphasis is made on rapid publishing of articles covering theory, methodology and practical applications.
While the emphasis is on the publication of original research papers, position papers expressing stimulating viewpoints and philosophies, survey papers, and bibliographies are also published. Submitted papers are evaluated by the editors and those judged as presenting potentially significant research contributions within the scope of the journal are formally reviewed. Suitability for publication is based on relevance to the overall IJCVB editorial goals, originality, technical quality, importance and readability.

There are two different issues: regular issues and special issues. The regular issues publish collections of papers without special solicitation. The special issues have specifically aimed and targeted topics of interest contributed by authors responding to a particular Call-for-Papers. Regular papers can submitted at any time, while special issue papers can be submitted only based on planned schedules and submission guidelines of the Call-for-Papers. Proposals for special issues can be submitted directly to Editor-in-chief.


Article Processing Charges: There is no publication or page charges in the journal.

Submission: Authors are requested to submit their papers electronically to ijcvb.editor@gmail.com

Frequency: Two issues per year are published.