International Journal of Computational

Intelligence in Control
EDITOR-IN-CHIEF
Srikanta Patnaik
SOA University and Interscience Institute of Management and Technology
Bhubaneswar, India
E-mail: ijcic.editor@gmail.com
Click here for complete Editorial Board
Indexing: The journal is index in SCOPUS, SCImago, UGC Index, Google Scholar, Research Gate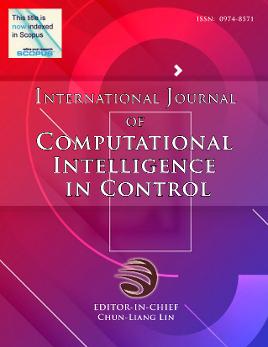 ISSN: 0974-8571

This journal also publishes Open Access articles
Aim and Scope

The International Journal of Computational Intelligence in Control (IJCIC) is a peer-reviewed journal of analytical, computational and experimental studies of computational intelligence in control.
The journal publishes high-quality and insightful papers on the theory, design, and application of computational intelligence, including neural networks. fuzzy systems, genetic algorithms, bioinformatics and soft computing systems, in control.

Paper Submission: All submitted articles should report original, previously unpublished research results, experimental or theoretical, and will be peer-reviewed by at least two referees. Articles submitted to the journal should meet these criteria and must not be under consideration for publication elsewhere. Manuscripts should follow the style of the journal and are subject to both review and editing. All draft papers should directly be submitted to the technical editor.
Submission: Papers may be submitted to any member of the Editorial Board, Managing Editor, Honorary Editors, or direct to the Editor in Chief. To speed up the reviewing process and decrease paper work, authors are advised to select carefully from our large Editorial Board the one member whose field of interest is closest to the work submitted. The Journal, IJCIC, encourages all prospective authors to submit their manuscripts electronically. Only PDF file is accepted. Authors are requested to submit their papers through ONLINE SUBMISSION SYSTEM or
patnaik_srikanta@yahoo.co.in .

Review Process: This journal uses double-blind review, which means that both the reviewer and author identities are concealed from the reviewers, and vice versa, throughout the review process. The articles is submitted to minimum 3 reviewers specialize on the topic for their reviews.
Article Processing Charges : The journal publish articles in Open Access Model. In this Open Access model, the publication cost should be covered by the author's institution or research funds. These Open Access charges replace subscription charges and allow the publishers to give the published material away for free to all interested online visitors. Article processing Fee in the journal is Rs. 30,000/- (for Indian Authors).
Retractions/Policy to deal with Unethical Publication: Retractions are considered by journal editors in cases of evidence of unreliable data or findings, plagiarism, duplicate publication, citation manipulation and unethical research. We may consider an expression of concern notice if an article is under investigation. All retraction notices will explain why the article was retracted. The retraction procedure depends on the publication stage of the article. The article will be removed from t
Plagiarism: All the articles will be check through Turnitin Software before the publication of the journal.

Language : English

Abbreviation: Int. J. Comput. Intell. Ctrl.


Indexing & Abstracting: IJCIC is index in SCOPUS, UGC Care, Google Scholar, Research Gate, EBSCO Database Etc...

Readership: Engineers, Mathematician, Analyst and physicists at universities, research institutions, and in industry.
Focus: Computer Science, Artificial Intelligence, Computer Science Applications, Decision Sciences, Information Systems and Management, Computational Mechanics
Frequency: Two issues per year are published.



International Journal of Computational Intelligence in Control currently has an acceptance rate of 24% (2020). The average time between submission and final decision is 2 month and the average time between acceptance and publication is 3 to 4 month.

Call for Paper for Special issue in 2021
Special issue on Artificial Intelligence DOWNLOAD
Special issue on Intelligent Control and Innovative Computing DOWNLOAD



Vol. 14 No. 1 (June, 2022) Vol. 14 No. 2 (December, 2022)


Vol. 13 No. 1 (June, 2021) Vol. 13 No. 2 (December, 2021)


Vol. 12 No. 1 (June, 2020) Vol. 12 No. 2 (December, 2020)

Vol. 11 No. 1 (June, 2019) Vol. 11 No. 2 (December, 2019)


Vol. 10 No. 1 (June, 2018) Vol. 10 No. 2 (December, 2018)





(The journal published in Print version from 2009-2017)